A friend of mine is thinking about buying a house, in fact he's been thinking about buying a house for a couple of years now.  However, the last time he applied for a mortgage, he didn't have enough credit, so his mortgage broker suggested he get a credit card or two to help build his credit score.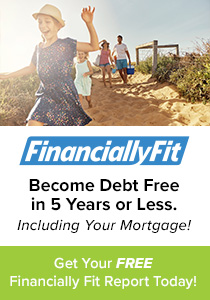 Unfortunately, my friend didn't know much about credit scores, credit cards, and such, so he went out and applied for multiple cards… and was rejected multiple times.
And that actually hurt his credit far more than he realized… his credit score plummeted almost twenty points.  All because he applied for multiple credit cards that were actually "out of his credit league."   Had he been smart, he would have checked his credit score first, and then only applied for credit cards that he was likely to qualify for instead of the top tier cards that require excellent credit for approval.
What about you?  Do you know enough about your credit score and credit cards to make smart choices when applying for credit cards?  And, once you get approved for a credit card, do you know all the ins and outs?  Have you read all the fine print?  Do you understand it?  If not, you might want to spend a little time learning a little more about credit cards and the benefits and the negative connotations that go with them.  That way, you won't be like my friend and have to learn the hard way.
Remember, using your credit cards responsibly can help you reach those big financial goals, like your first home, that new car, or even something as simple as this year's vacation.
How do Credit Cards Work?
A credit card is really nothing more than a simple plastic card, equipped with a security chip, that is linked to a line of credit with a financial institution.  Whenever you swipe your credit card to pay a bill, make a purchase (online or in person), or get a cash advance from an ATM, you're actually borrowing money from the financial institution.  While you don't have to repay the full amount right away, if you don't pay within a certain amount of time (usually 25-30 days from the date of purchase), you'll have to pay interest on the unpaid balance.  If the purchase is large enough, and if you take a long time to pay off the balance, the interest charged against the initial purchase can be significant as it will accrue against the amount that remains unpaid every month until you've paid it in full.
What are the Benefits of Using a Credit Card?
One of the biggest benefits of having a credit card is so that you can handle large or unexpected expenses, such as car repairs, home repairs, and other emergencies that crop up when you don't have the cash to pay all at once.  With a credit card, you can manage the expense by paying over time.  (Just be sure that you pay it off as soon as you can.)
Some credit cards also offer rewards, such as cash back, travel rewards, and other perks, just for using the card to make purchases.  Again, be sure to pay the balance off as soon as you can because the monthly interest charges can easily outweigh any rewards you may earn.  Some credit cards also offer "purchase protection," where items that you have purchased may be refunded if it's defective or damaged.  And of course, nearly every credit card offers protection against fraudulent use.  (If yours doesn't, you need to get another credit card!)
But, for a certain group of people, the biggest benefit of a credit card is the opportunity to build (or rebuild) a good credit history.  Using your credit card to make purchases, paying your credit card bill on time every month, and keeping your total credit usage at or under 30% will demonstrate responsible credit usage, and this will be reflected on your credit report.  Available credit and payment history are the two most significant factors in calculating credit scores, and lenders consider a solid payment history when you apply for new credit or a loan, so that a healthy history of on-time payments can help you get approved with lower interest rates than if you have had one or more missed payments.
What are the Risks of Using a Credit Card?
Probably the single biggest risk of using credit cards is how easy it is to get in over your head, spending money you don't have, and strapping you with monthly payments that you can't afford (often for years).  For every month that you can' pay your balance in full, the interest accumulates and increases that debt.  The best way to avoid getting in over your head is to only use your credit cards when you can pay the balance in full, or when you have an unexpected expense (such as car trouble) and need to pay for the expense over time.  Just be sure to have a repayment plan and stick to it!
There are other risks with credit cards, as well.  Paying late, missing payments, carrying a balance over 30% of the total available credit, opening and closing too many accounts can all have a negative effect on your credit score, so use your credit cards responsibly.
What Credit Cards Should I Apply For?
Before you apply for a credit card, check your credit report and your FICO score to see what kind of credit card you're most likely to be approved for when you apply.  Remember every time you apply for a credit card, the credit card issuer reviews your credit report.  This causes a "hard inquiry," which can negatively affect your credit score, especially if you apply for too many credit cards all at once.
(Prequalification on the other hand would be a soft inquiry, since it is not firm approval, and provides an estimation of what you could qualify for. Not all prequalifications will lead to approval, since other factors such as income would be additional factors for the approval process.)