It's February; shouldn't we already have our 2017 budgets created? If you don't, please don't beat yourself up about it. It is never too late to start planning and budgeting for the year. If you already have your budget created, perhaps there is something that you missed or need to change?
How do you create a budget and keep it realistically flexible enough to meet the needs of you and your family?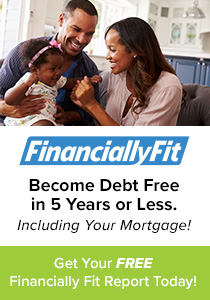 I have seen my budget fail four times. Why? Because it wasn't realistic. We all want to be in a place where we are saving as much as we can and have little to no debt. It's easy to sit down and write numbers down, such as "I want to put $1,000 a month into savings", but what if that isn't realistic. What do you do?
Here are 3 Ways to Create a Realistic Budget
Analyze Your Spending
You need to know what you have coming in and going out each month. Step one is to review all bank accounts and credit cards statements for at least three months. This will give you a good picture of where you stand for the month.
Categorize
Using the Zero-based budgeting method (which is my favorite), list all your expenses for the month. Zero-based budgeting is a method in which you count all the money coming in, every single penny.
Once you have the amount of all the money coming in, you then make categories for all your expenses. By the time you add your budget for each expense, you should have a total of zero dollars at the end of the month. All the money is accounted for, but again, be realistic with what you are spending so that there are no surprises at the end of the month.
Track Your Spending
Even though you have your budget, you should always monitor what you spend. Because life happens and there will be moments when you may have to move some of the numbers around. Try to only do this during those emergency situations (car troubles, medical issues, etc.). Using an app on your phone may be helpful; I currently use Every Dollar and Money Manager.
Maintaining your budget is hard work, so reward yourself. If you stay well within or below your budget, treat yourself out for dinner or a movie. It is a nice reminder that while you are saving, you are also working hard and deserve a treat for a job well done.
Content provided courtesy of USAA.
By Angela Caban